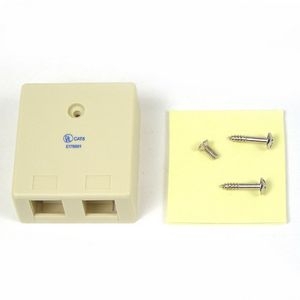 Belkin 2-Position Surface Mounting Box
Our Price: $2.26
Condition: New
Out of Stock.
Submit email address to get In-Stock Alert
Product Information
Manufacturer Part Number: F4E485
Shipping Weight: 0.09 lbs
Description
ired of your old cracked mounting box? Let Belkin give your network a makeover. These attractive boxes will perfectly blend into your home or office décor, and can hold a multitude of jacks. Unloaded 2-Position Keystone Surface Mount Box, the easiest way to install a network outlet. Perfect for office cubicles or installations where the cable is run along a baseboard.
Product Details
Product Type: Mounting Box
Color: Ivory
Compatibility:
R6D022-AB5
R6D028-AB5
F4E487
F4E488
F4E489
F4E486-5
Manufacturer Website Address: www.belkin.com
Standard Warranty: Lifetime