Home &gt Computer Hardware &gt Mounts & Brackets &gt Brackets & Accessories &gt Item#:60345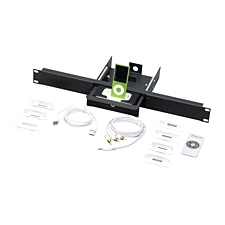 Chief IRDS-1 In-rack iPod Cradle
Our Price: $93.16
Condition: New
Out of Stock.
Submit email address to get In-Stock Alert
Product Information
Manufacturer Part Number: IRDS-1
Shipping Weight: 3.2 lbs
Description
Secure and easy to use with a simple magnetic system to open the docking platform and dock the iPod. Easy release system allows you to take your iPod with you. The integrated docking platform closes for that clean, sleek rack appearance.
Product Details
Product Type: Cradle
Device Supported: Digital Player
Total Number of USB Ports: 1
Connectivity Technology: Wired
Charging Capability: Yes
Product Model: IRDS-1
Manufacturer Website Address: www.chiefmfg.com
Compatibility:
All iPod, iPod mini and iPod nano
Package Contents
IRDS-1 In-rack iPod Cradle
1 x USB Cable
1 x Remote Control
Plastic Inserts