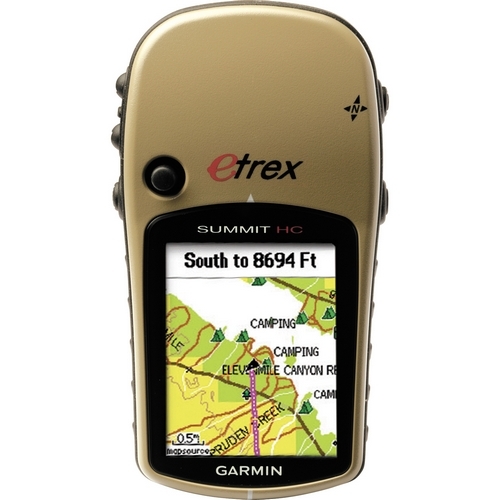 Garmin eTrex Summit HC Handheld GPS Navigator
by Garmin, Ltd
Our Price: $187.76
Condition: New
Out of Stock.
Submit email address to get In-Stock Alert
Product Information
Manufacturer Part Number: 010-00633-01
Shipping Weight: 1.5 lbs
Description
A staple among outdoor enthusiasts, eTrex Summit HC features a high-sensitivity GPS receiver for peak performance in any environment and includes 24 megabytes (MB) of internal memory, a detailed basemap, crisp color screen, barometric altimeter and electronic compass.
Product Details
Product Type: Handheld GPS Navigator
Product Family: eTrex Summit
Color Supported: 256 Colors (8-bit)
Built-in Devices: Altimeter
Maximum Battery Run Time: 14 Hour
USB: Yes
Height: 4.2"
Width: 2.2"
Depth: 1.2"
Form Factor: Portable
Product Model: HC
Product Line: eTrex Summit
Manufacturer Website Address: www.garmin.com
Display Resolution: 176 x 220