Home &gt Electronics &gt Navigation &gt Accessories &gt Item#:166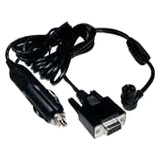 Garmin 010-10165-00 Auto Adapter
by Garmin, Ltd
Our Price: $26.99
Condition: New
Out of Stock.
Submit email address to get In-Stock Alert
Product Information
Manufacturer Part Number: 010-10165-00
Shipping Weight: 0.5 lbs
Description
Our vehicle power cable with PC interface allows you to make a powerful connection between your device and your PC. Create routes and waypoints on your PC and transfer them to your device, and download map detail from MapSource CDs to compatible devices. Cable features a standard 9-pin D connector and connects to any 12 V receptacle.
Product Details
Product Type: Auto Adapter
Device Supported: GPS Navigator
Input Voltage: 12 V DC
Manufacturer Website Address: www.garmin.com
Compatibility:
GPS Navigators:
GPS 12CX
GPS 12MAP
GPS 12XL
GPS 48
GPS 60
GPS 72
GPS 72H
GPS 76
GPS 89
GPS 90
GPS 92
GPS II Plus
GPS II
GPS III Pilot
GPS III Plus
GPS III
GPS V
GPSMAP 176
GPSMAP 176C
GPSMAP 196
GPSMAP 295
GPSMAP 60
GPSMAP 60C
GPSMAP 60CS
GPSMAP 60CSx
GPSMAP 60Cx
GPSMAP 76
GPSMAP 76C
GPSMAP 76CS
GPSMAP 76CSx
GPSMAP 76Cx
GPSMAP 76S
GPSMAP 78
GPSMAP 78sc
GPSMAP 96
GPSMAP 96C
StreetPilot
StreetPilot ColorMap
StreetPilot III