Home &gt Electronics &gt Navigation &gt Mapping Software &gt Item#:284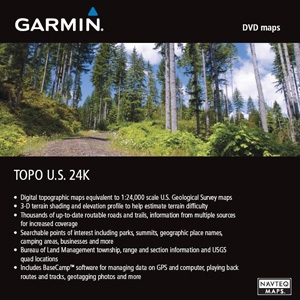 Garmin TOPO U.S. 24K West - Digital Map
by Garmin, Ltd
Our Price: $80.64
Condition: New
Out of Stock.
Submit email address to get In-Stock Alert
Product Information
Manufacturer Part Number: 010-11314-00
Shipping Weight: 0.65 lbs
Description
Outdoor enthusiasts: your adventure is waiting in vivid detail. TOPO U.S. 24K West DVD brings you the highest level of topographic detail available, with maps comparable to 1:24,000 scale USGS maps. These highly detailed maps on DVD include terrain contours, topo elevations, summits, routable roads and trails, parks, coastlines, rivers, lakes and geographical points - and they also display 3-D terrain shading on compatible devices. With routable roads and trails in metropolitan and rural areas, getting to your destination is easy by creating point-to-point routes on compatible units.
Product Details
Product Type: Land/Marine Map
Country: United States Of America
Continent: North America
Distribution Medium: DVD-ROM
Application/Usage: Driving
Manufacturer Website Address: www.garmin.com