Home &gt Home Audio & Video &gt Cables Audio & Video &gt HDMI Cables &gt Item#:871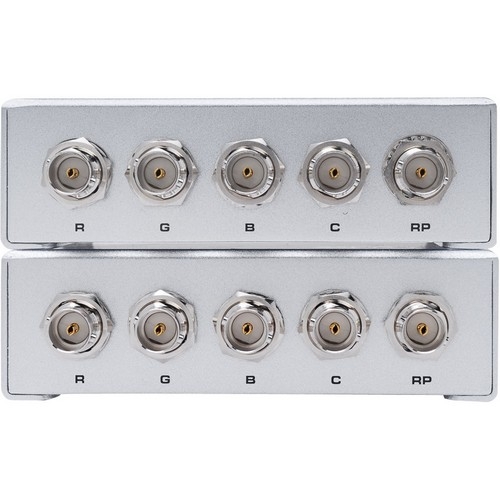 Gefen HDMI over RGB Extender
by Gefen, Inc
ValleySeek is an authorized Gefen Distributor.
Product Information
Manufacturer Part Number: EXT-HDMI-5BNC
Shipping Weight: 4.2 lbs
Description
The Gefen HDMI over RGB Extender sends HDMI 1.3 with support for 1080p, Deep Color and multichannel 7.1 digital audio, all over legacy coaxial cabling. Integrated Gennum ActiveConnect technology delivers flawless, breathtaking digital audio/video at distances of up to 330 feet (100m). This is the ideal system for environments that are committed to an RGBHV infrastructure but would still like to step up to the world of digital HDTV.
Product Details
Product Type: HDMI Extender
Green Compliant: Yes
Green Compliance Certificate/Authority: RoHS
Dimensions: 1.3" Height x 4.3" Width x 3.9" Depth
Manufacturer Website Address: www.gefen.com
Height: 1.3"
Width: 4.3"
Depth: 3.9"
Package Contents
1 x Gefen HDMI over RGB Extender Sender
1 x Gefen HDMI over RGB Extender Receiver
1 x 6 ft HDMI Cable (M-M)
1 x 5V DC Power Supply
1 x User's Manual