Home &gt Home Audio & Video &gt Cables Audio & Video &gt Adapter/Gender Changers &gt Item#:866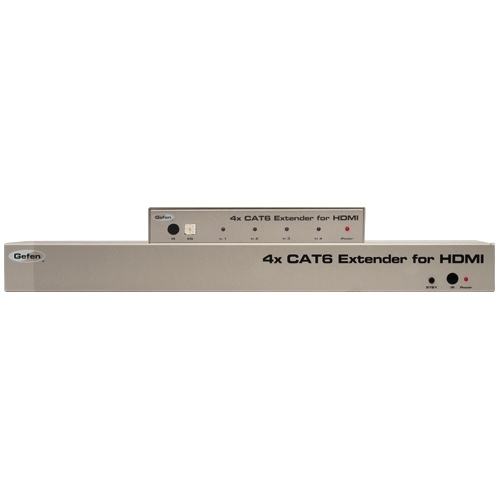 Gefen EXT-HDMI1.3-CAT6-4X Video Console/Extender
by Gefen, Inc
ValleySeek is an authorized Gefen Distributor.
Product Information
Manufacturer Part Number: EXT-HDMI1.3-CAT6-4X
Shipping Weight: 15.2 lbs
Description
The Gefen 4x CAT6 Extender for HDMI is a companion product for any 4X4 Matrix for HDMI solution. It takes Hi-Def sources routed by the Matrix to any four extended HDTV displays up to 200 feet (60 meters) away. This HDMI product supports a variety of HDMI 1.3 features including: Deep Color, Multi-Channel Audio, Lip-Sync, and 3DTV. Additional features include an extension for IR Remote for AV source control from the remote locations, IP Control and RS232 control for overall system routing and management.
The Gefen 4x CAT6 Extender for HDMI supports the HDMI 1.3 specification with features like 1080P Full HD, and compressed lossless audio formats such as Dolby TrueHD and DTS-HD Master Audio. The CAT6 Extender's pure digital transmission method insures 100% signal integrity over a single cable extension solution.
Product Details
Product Type: Video Console/Extender
Number of Network (RJ-45) Ports: 5
Number of HDMI Inputs: 4
Media Type Supported: Twisted Pair
Number of Output Devices Supported: 4
Number of Input Devices Supported: 4
Connectivity Technology: Wired
Graphics Modes: WUXGA
Maximum Video Resolution: 1900 x 1200
Twisted Pair Cable Standard: Category 6a
Network (RJ-45): Yes
HDMI In: Yes
HDMI Out: Yes
Height: 1.8"
Width: 17.0"
Depth: 4.5"
Product Model: EXT-HDMI1.3-CAT6-4X
Manufacturer Website Address: www.gefen.com
Input Voltage: 24 V DC
Package Contents
EXT-HDMI1.3-CAT6-4X Video Console/Extender
4 x HDMI Input Cables
1 x RS-232 Serial Cable
1 x Power Supply
4 x Locking Power Supply
1 x Set of Rack Ears
1 x User's Manual