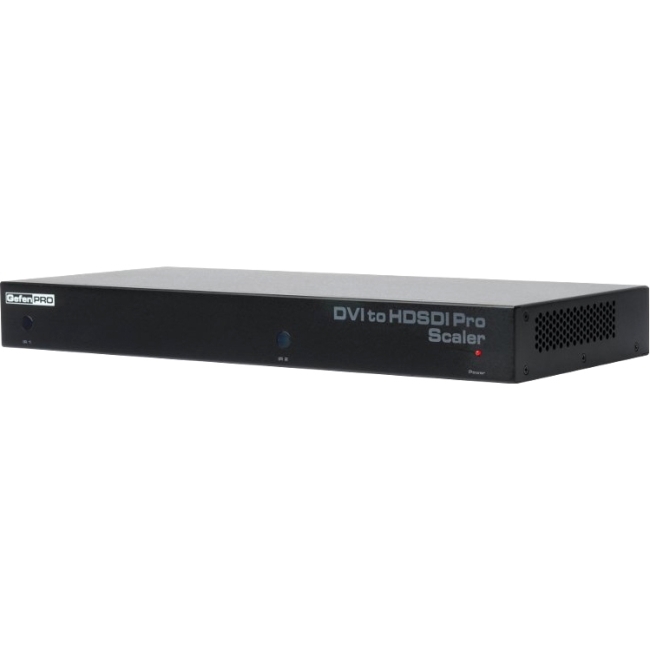 Gefen Video Scaler
by Gefen, Inc
ValleySeek is an authorized Gefen Distributor.
Product Information
Manufacturer Part Number: GEF-DVI-2-HDSDIPRO
Shipping Weight: 8.2 lbs
Description
The GefenPRO DVI to HDSDI Pro Scaler places two DVI to HDSDI Scaler Plus units in one rack mount enclosure. This product provides two separate DVI inputs to be converted and scaled to single link or dual link HD-SDI. Resolutions up to 1080p and 2K with genlock are supported on the HD-SDI output. This product uses VXP scaler technology which provides high-performance scaling plus additional features: Adaptive video interlacing with edge interpolation, noise reduction, alpha blending, and image enhancement. Two separate BNC connectors offer external genlock capabilities. The GefenPRO DVI to HDSDI Pro Scaler provides superior HD-SDI scaling quality in one rack mount space.
Product Details
Product Type: Video Scaler
Product Family: GefenPRO
Form Factor: Rack-mountable
Functions: Video Scaling
DVI: Yes
Height: 1.8"
Width: 17.3"
Depth: 6.7"
Maximum Resolution: 2048 x 1080
Product Model: GEF-DVI-2-HDSDIPRO
Product Line: GefenPRO
Manufacturer Website Address: www.gefen.com
Standard Warranty: 2 Year
Package Contents
1 x GefenPRO Video Scaler
2 x DVI Cables
1 x IR Remote Control Unit
1 x Set of Rack Ears
1 x User Manual