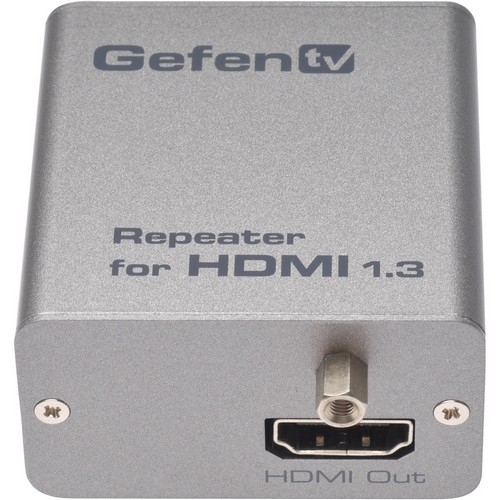 Gefen TV Repeater for HDMI
by Gefen, Inc
ValleySeek is an authorized Gefen Distributor.
Product Information
Manufacturer Part Number: GTV-HDMI1.3-141
Shipping Weight: 3.2 lbs
Description
The GefenTV Repeater for HDMI can greatly extend the reach of HDMI signals with exceptional flexibility and value in two ways. In its basic configuration, the GefenTV Repeater for HDMI links two HDMI copper cables together to create a longer extension, as easily as connecting two cables up to 100 feet. Alternately, GefenTV Repeater for HDMI can be combined multiple units deep, or "daisy chained," to create much longer HDMI extensions up to 360 feet.
Product Details
Product Type: HDMI Extender
Green Compliant: Yes
Green Compliance Certificate/Authority: RoHS
Dimensions: 1.0" Height x 2.0" Width x 2.0" Depth
Manufacturer Website Address: www.gefen.com
Height: 1.0"
Width: 2.0"
Depth: 2.0"
Package Contents
1 x GefenTV Repeater for HDMI
1 x 5V DC Power Supply
1 x User Manual