Home &gt Computer Hardware &gt Controller Cards &gt Parallel I/O Cards &gt Item#:20825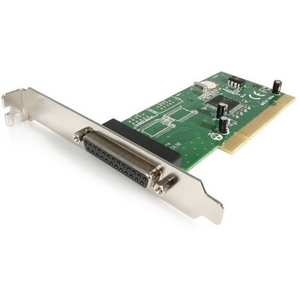 StarTech.com 1 Port PCI Dual Voltage Parallel Adapter Card
by StarTech.com
Product Information
Manufacturer Part Number: PCI1PECPDV
Shipping Weight: 0.5 lbs
Description
This PCI Dual Voltage EPP/ECP Parallel Adapter Card adds an IEEE 1284 port to your PC, with support for data transfer speeds of up to 1.5 Mbps up to 3 times faster than built-in parallel ports.
A versatile solution, the Parallel Adapter Card can be installed in either a PCI 5V or PCI-X 3.3v PCI slot, making installation simple.
The adapter card supports Windows Vista, XP, ME, 2000, 98SE, NT4, DOS and Linux.
Plus, IRQ sharing and plug and play capabilities guarantee convenient, hassle-free connections to any parallel peripheral.
This PCI Parallel adapter card is a complete dual profile solution, providing both a standard bracket and a low profile bracket for adapting to slimline or small form factor system applications.
Product Details
Product Type: Parallel Adapter
Form Factor: Dual-profile Plug-in Card
Number of Ports: 1
Host Interface: PCI
Ports: 1 x 25-pin DB-25 Female Parallel
Data Transfer Rate: Up to 1.50 Mbps Parallel Port
Manufacturer Website Address: www.startech.com
Standard Warranty: 2 Year