Home &gt PCs & Laptops &gt Computers Notebooks &gt Accessories &gt Item#:7216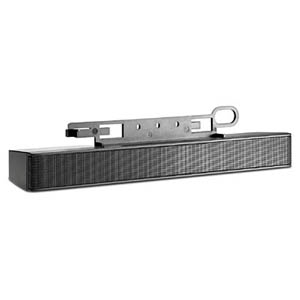 HP NQ576AT Speaker Bar System
Our Price: $32.77
Condition: New
Out of Stock.
Submit email address to get In-Stock Alert
Product Information
Manufacturer Part Number: NQ576AA
Shipping Weight: 1.15 lbs
Description
The HP NQ576AT LCD Speaker Bar lets you add stereo audio output to your HP flat panel monitor without taking up any additional desk space. The HP LCD Speaker Bar is an excellent choice for improving the quality of multimedia presentations, streaming online video or Web-based seminars. It attaches easily to the bottom of the monitor to bring audio support features such as high-quality speakers and an external headphone jack right to the desktop.
Product Details
Product Type: Speaker System
RMS Output Power: 2 W
Color: Black
Height: 2.8"
Width: 13.0"
Depth: 2.4"
Product Model: NQ576AT
Frequency Response: 200 Hz to 20 kHz
Manufacturer Website Address: www.hp.com
Power Source: USB
Compatibility:
HP/Compaq Business Desktop PCs:
dc5800 Microtower
dc5800 Small Form Factor
dc5850 Microtower
dc5850 Small Form Factor
dc7900 Convertible Minitower
dc7900 Small Form Factor
dc7900 Ultra-slim Desktop
dx2400 Microtower
dx2450 Microtower
dx7500 Microtower
dx7500 Small Form Factor
rp5700 Desktop
HP Business LCD Monitors:
DreamColor LP2480zx
L1506 15-inch
L1710 17-inch
L1745 17-inch
L1750 17-inch
L1910 19-inch
L1910i 19-inch
L1945w 19-inch Widescreen
L1950g 19-inch
L2245wg 22-inch Widescreen
L2445w 24-inch Widescreen
LE1901w 19-inch Widescreen
LE1901wi 19-inch Widescreen
LE1901wm 19-inch Widescreen
LE2201w 22-inch Widescreen
LP1965 19-inch
LP2065 20-inch
LP2275w 22-inch Widescreen
LP2475w 24-inch Widescreen
LP3065 30-inch Widescreen