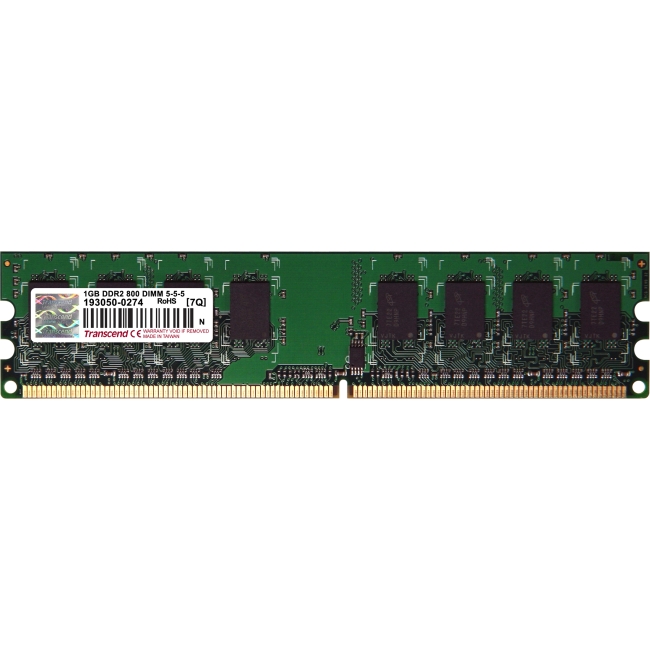 Transcend 1GB DDR2 SDRAM Memory Module
Our Price: $37.46
Condition: New
Out of Stock.
Submit email address to get In-Stock Alert
Product Information
Manufacturer Part Number: TS128MLQ64V8J
Shipping Weight: 0.3 lbs
Description
The TS128MLQ64V8J is a 128M x 64bits DDR2-800 Unbuffered DIMM. The TS128MLQ64V8J consists of 16pcs 64Mx8bits DDR2 SDRAMs in 60 ball FBGA packages and a 2048 bits serial EEPROM on a 240-pin printed circuit board. The TS128MLQ64V8J is a Dual In-Line Memory Module and is intended for mounting into 240-pin edge connector sockets.
Product Details
Product Type: RAM Module
Memory Technology: DDR2 SDRAM
Memory Size: 1 GB
Form Factor: DIMM
Memory Speed: 800 MHz
Error Checking: Non-ECC
Number of Pins: 240-pin
Signal Processing: Unbuffered
Green Compliant: Yes
Green Compliance Certificate/Authority: RoHS
Memory Standard: DDR2-800/PC2-6400
Width: 1.2"
Length: 5.3"
Manufacturer Website Address: www.transcendusa.com
Number of Modules: 1 x 1 GB
Thickness: 50.0 mil